Welcome To AE86 Driving Club

AE86 Driving Club was established on the 30th March 2005 as a place to discuss all things AE86, KE70, Toyota 86 and all things JDM.
9 Years later nearly 15,000 members have passed through our doors posting more than 900,000 posts on the forums.
Whilst many of our members have moved on from their trusty AE86's and post about their dirty Dattos and buzz box Hondas, they are still very much part of our community.
We encourage you to show off your pride and joy in our Members Rides area or ask as many Technical Questions as you need to complete your build - there is no such thing as a dumb question, but please don't be lazy by asking brief questions or not doing at least a little homework first.
We don't mind if you are just here to sell some parts, after all AE86 parts are only going to get harder to find given their age.
What we do ask is that you be respectful of other members, if you think a fluro pink ae86 with 24" chrome wheels looks horrid , whilst you won't be alone in your thoughts please keep them to yourself. If a technical question has been asked 1 million times and it annoys you don't click on the thread.
We welcome you to our AE86 community and encourage you to
Register
either by creating an AE86 Driving Club login or by using your Facebook credentials.
Have a good day and thanks for stopping by our community.
Regards,
Matthew Harris
Beau Yates Long Road to WTAC

2016-10-19 by Matt
In 2013 at WTAC Beau Yates and many HachiRoku fans around the world feared they had lost an iconic car for good. We were in disbelief that a car that had performed flawlessly without any major incident could go from skidding Eastern Creek South Circuit to suddenly be sitting on the side of the track with it's front wheel torn off in it's final outing.
How does this happen, and the answer is rather simple. A bogan driving a Ford Falcon after looping it decided to try and impress the crowd with a static burnout in the middle of the track. We've all heard the during the drivers briefings how burnouts are not permitted during drift events over and over again. The end result seeing both Beau Yates and Anthony Cece (Jaustech Automotive) coming into heavy contact with the Falcon.
To use an Insurance Term both cars were "
A write off
".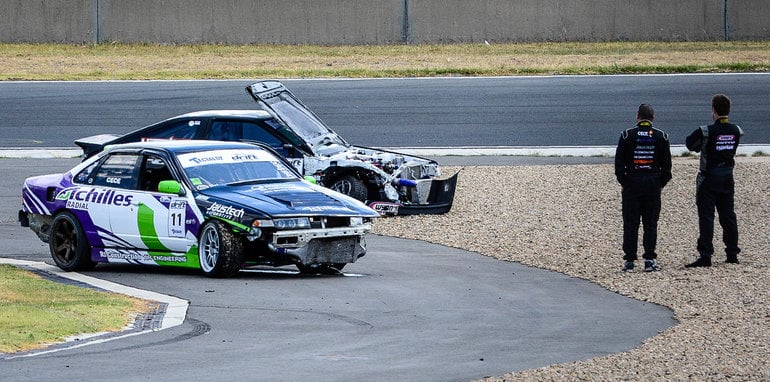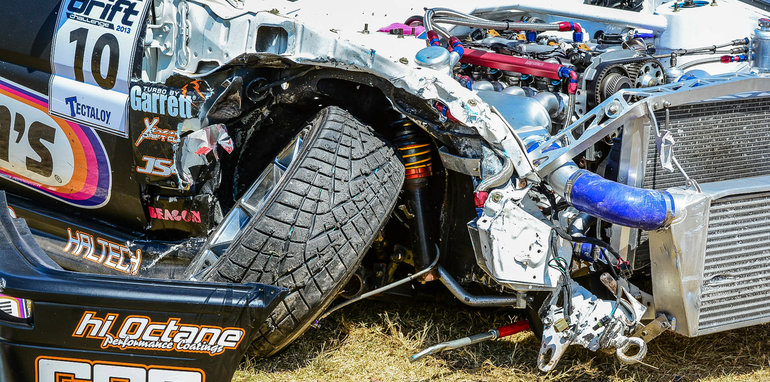 Eeryone was in disbelief, as the AE86 should not have even been at the track as the new Toyota 86 was destined to make it's debut. Some issues with the Quad Cam VVTI and other niggling issues with the build which caused the car not to run that day. After long silent trip towing the car home, the car was let sit in the corner of Beaus garage whilst he concentrated on the new GT86 and making it competitive.
Many tears where shed around the world as we thought the iconic car was gone for good.
After 3 years of sitting collecting dust the AE86 was dragged out to start the restoration process. At the time, Beau knew once restored, Drift King Keiichi Tsuchiya would be driving it at World Time Attack 2016. Having DK see your car is a dream shared by many AE86 owners. But the thought to him driving on the international stage was beyond Beau's wildest dreams and provided the motivation required to begin the long road ahead of him.
The car was placed on a custom made jig and over many long nights straightened and the new strut tower fitted. A rotisserie was then utilised to paint the under neath of the car white as it was silver for all these years. The finish under body finish on the car is as good as the top. Once the paint work was in order, the car was shipped to the amazing team at
Hypertune.
The small team of metal fabricators worked alongside Beau to resurrect the car from the ground up for its big day at WTAC 2016.
And boy did the car live up to it's expectations and impressed DK immensely.
Check out the in car video thanks to Car Advice of DK enjoying Beau's Car
here